EDITH is the perfect spot for different desires, where you can eat, shop and experience the way you like it.
Located in the heart of Port Louis, getting to EDITH is very easy and can be reached by bus, metro, private car and taxi or on foot from the two bus stations in Port Louis, but the duration of the journey varies based on how you'll choose to get here.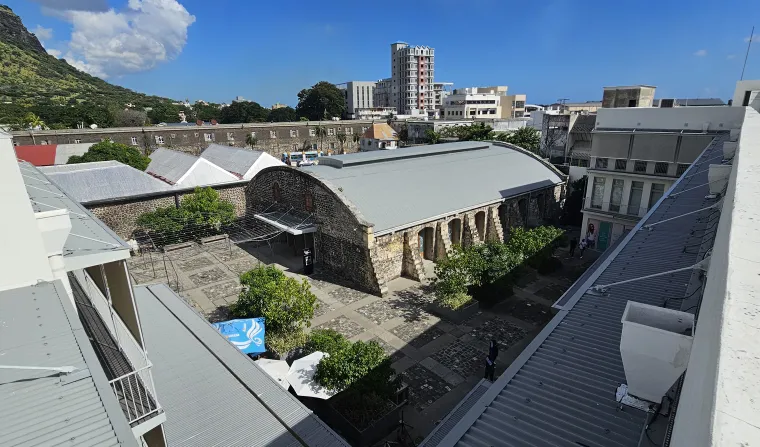 The strategic location and being in a city comprising of two bus stations, is one of our biggest assets. From almost all regions in Mauritius, you can find easily find buses to get to Port Louis.

From the East and North Region, you will reach La Gare du Nord.
From the West, South and Centre Region, you will reach Victoria Urban Terminal.
For those living and working in Port Louis, the best way to get here is on foot, navigating your way through the different streets surrounding EDITH. To discover the most suitable route for you, visit google maps.
Located in the heart of the capital, EDITH is only 5 mins walk from Victoria Urban Terminal and 15 mins walk from La Gare du Nord.
The duration of the journey using your own transport will vary based on your location. You can definitely drive to EDITH, however parking is restricted.
Hail a taxi from any part around the island and ask the driver to take you to EDITH in Port Louis.
You will have to stop at the last stop of the metro station; Victoria Terminal, walk through Victoria Urban Terminal and go straight to Edith Cavell St.
Offices
EDITH is not only a great place to eat, shop and relax – it could also house your next office.
We are happy to welcome both established and new organisations and businesses, convinced that our lively and exciting environment will contribute to the development of your business and that you will soon be reaping the benefits of being part of our community.
Contact Us:
Phone number: (+230) 213 7695
Email: info@lavastone.mu