What's happening
at EDITH
EDITH has been designed to create a different vibe in the middle of the city. Whenever you plan to visit us, there'll be something going on – events, fun activities, in-store offers or simply the buzz of people strolling around or enjoying a meal, a snack or a tasty cup of coffee.
Watch this page to see has happened and what's happening, especially in La Cour du Génie and House of Digital Art.
Located in the heart of Port Louis and in a historic building, this artistic venue is unique in the Indian Ocean. It serves as a gateway between collective history and individual memories, between pasts and futures, between islands, generations, and Indo-oceanic cultures. Inclusive and welcoming, it brings together, inspires, and educates. This unique activity will take place till February 2024. Check out their page for more information.
Churning of the History, 2021
EDITH's first whimsical art
installation
The remarkable art structure, Churning of the History, is one of the recent works of the talented  Mauritian sculptor, Nirmal Hurry. He has shown an astounding level of creativity in remodelling scrap into Art. In his singular and playful style, Nirmal  transforms recycled materials into playful art structures and is acknowledged to be one of the country's best contemporary artists.
The Churning of the History is inspired by the way pedestrians in Port Louis navigate their paths through the two entryways, into an unknown place or a place of great significance; it is a threshold, the transition from history to modernity and the artwork aims to draw attention to the link between Mauritius' rich and varied cultural life and modernism.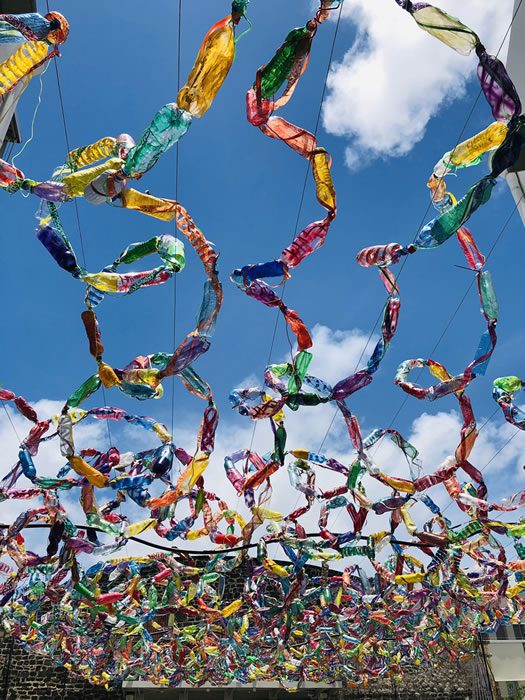 Offices
EDITH is not only a great place to eat, shop and relax – it could also house your next office.
We are happy to welcome both established and new organisations and businesses, convinced that our lively and exciting environment will contribute to the development of your business and that you will soon be reaping the benefits of being part of our community.
Contact Us:
Phone number: (+230) 213 7695
Email: info@lavastone.mu