La Scène d 'EDITH is BACK 

Zonn pare pou enn zoli concert dan EDITH ?
After a spectacular concert in September 2022, ZULU honors us with its grand return to EDITH for the first La Scène d'EDITH of the year. 

We are pleased to welcome ZULU and Dj LP for an exceptional performance this 26th May 2023

 Live Session with Zulu:
6:30 pm – 7:30 pm

 Live Session with DJ LP:
6 pm – 6:30 pm
7:30 pm – 8:30 pm

 Tables will be allocated on a first come first serve basis.

 Grab a bite:
Bistro Barbu – Book your table on the 57467303
Panarottis – Book your table on the 2143282
Sangam Taj – Book your table on the 57751425
Parking Access:

 No stress, a parking is accessible next to EDITH (See the map in the thread discussion)
Event Access:

 Admission is FREE. Come with your friends, colleagues, and family for a good moment.

Stay tuned for more information.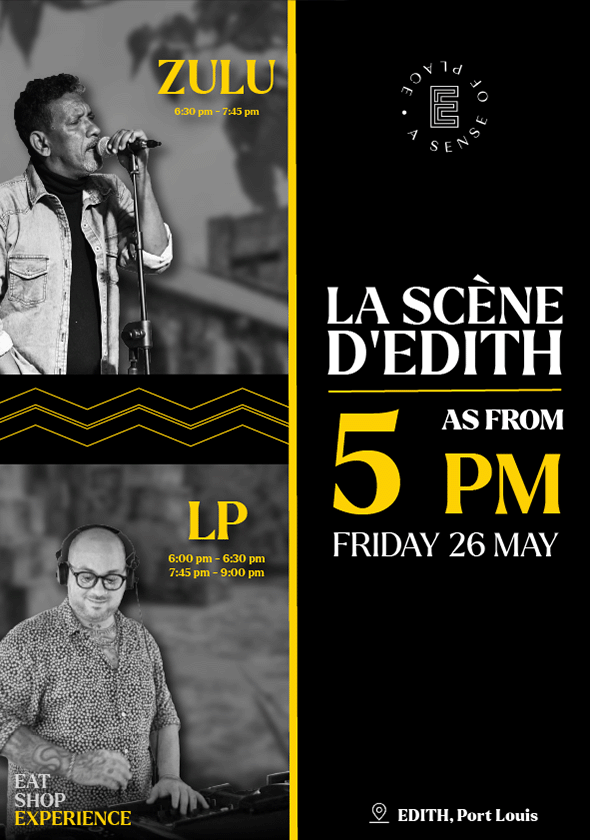 Offices
EDITH is not only a great place to eat, shop and relax – it could also house your next office.
We are happy to welcome both established and new organisations and businesses, convinced that our lively and exciting environment will contribute to the development of your business and that you will soon be reaping the benefits of being part of our community.
Contact Us:
Phone number: (+230) 213 7695
Email: info@lavastone.mu